Hello Guys,
Everyone is speculating what will happen to their applications to the universities or received admits, whether the semester will get deferred or classes will start online. It is exactly why we have created this thread where the GyanDhan team will post all relevant info which our research team is gathering. We also encourage the students to post on this thread any relevant information they gather from the university representatives including replies to the queries they send to the university officials.
PS: Requesting all to give a bit of background of your profile while posting so that the reader can understand the context.
Here is the summary of the information gathered till now, will keep editing this as we get more information:
Update on US Visa Process
Here are New SEVP Guidelines for International Students
Due to Covid-19, SEVP has lifted the restriction on mailing(courier) physical form I-20 and is allowing universities to email I-20s directly to the students temporarily from March 27. The emailed Form I-20 will now be considered official for the purpose of applying for visa. This means , as of 27th March, students should no longer pay shipping fees to recieve I-20 until further notice.
Updates on US Universities
IIT Chicago: Already sent an email offering to do the first semester online here in India with a subsidized fees
Here are more details:
Pay only 30% of campus fee while studying in India online
Be eligible for OPT & CPT like students on campus
Interaction with instructors through Email, AV or conference calls while in Indian & face to face on Campus
Evaluation of assignments, projects, & examination are the same as campus students.
The degree offered is the same. Nowhere it would be mentioned that you did a hybrid mode of study.
As you will be staying with your family, you don't have any extra living expenses
No need to quit your job to do masters
The Classes will be uploaded to your MyIIT portal - blackboard. You can attend classes at your convenience and if you face any query, you can contact your instructor directly.
USC: Extended the deadline for MS in CS for the following: Statement of intent can be submitted till 1st June and financial documents can be submitted till 15th May.

UTD: Have sent an assurance email to the students mentioning they see no reason why students won't be able to attend the classes, but in the worst case you would be able to attend the classes online from the home country.

Princeton University: on 4th March, tweeted - "The coronavirus outbreak and its effects have no impact on how we evaluate applicants to the University. Every application will receive our full consideration."

Rutgers, The State University of New Jersey- Sent an email to a prospective student mentioning the decision from computer science department will not be released until April

Suny Buffalo- The university's Management Program has updated that they are working on the curriculum for Fall 2020

North Carolina State University (NCSU) -
University has requested students to send the official transcripts and degrees electronically as their office is on complete lockdown and they get physical couriers one day a week at this time.

Also, Denise Wesselow, International Admissions Specialist, NCSU, replied to a student mentioning that you may register for the classes now and if your visa is not created in time for the start of the fall semester, you will have the option to take the first semester as a distance learning student, or you may defer your admission for up to a year starting either in spring 2021 or Fall, 2021.

University in an email to the student mentions that it is highly unlikely that you will get a visa for Fall 2020, they are recommending students to join the first semester online, and complete the degree in 3 semesters. Students are supposed to 10 courses in NCSU, they are recommending to distribute it 3/3/4 among the three-semester. They are mentioned more than 2/3rd of their courses are available online, and it has been there for the last many years. Anyway, you can defer the admissions by Aug 1, and they have assured they will accept all deferral requests. But students do have to accept the admission by April 15, otherwise, they will drop them and offer the seat to someone else. They also made a point that it is wise to join in Fall 2020, as many of the students are deferring, there will be a shortage of MS graduate in 2021/22. It will likely be easier to find a job and you will get more and better offers than in 2022/23 in case you defer
Clemson University: Adam, Graduate Student Coordinator, Clemson University, replied to a student mentioning, admission can be safely deferred for up to one year, deferring to Fall 2021 won't be a problem. There is no read deadline for deferring the admission, as long as the deferral is filed before the classes begin in August.

Arizona State University: Though there is no official communication, the students can see an option to defer the admissions. There is an option to defer the admission in myASU under the course name. It is recommended to get connect with a graduate advisor before submitting the request for deferral. There is a non-refundable fee of USD 30 for this process. To find out who is your graduate advisor you can check the name under your course name in myASU. You can also check the name of the advisor on ASU website, they have distributed the students based on the last names

Note: You can only defer it for one academic semester, that is to spring 2021.

University at Buffalo:

School of Management: As per Malinda E. Keidel, Assistant Director of Admissions, in an email to prospective students, they have made no changes to the university academic calendar. The university is anticipating regular enrollment for fall 2020. However, these are extraordinary circumstances and it is possible that will change between now and August. If any changes occur that impact your specific program, we will be in contact directly with you via email regarding enrollment options. As a normal policy, we allow any admitted students to defer admission for one year. Currently, we do not offer a spring MIS start, but we can surely defer your admission to fall 2021 if need be. We recommend all admitted students pay the tuition deposit to secure your seat in the incoming class as soon as possible; however, we are being very flexible with regard to when you make the payment. Should you defer to the next enrollment term, your tuition deposit will be deferred to that term, as well.

Northeastern University: This is an update regarding the CPS-MPS in Analytics program. As per Sam Worthington, Enrollment Operations Lead, The Fall 2020 i-20 e-form will open for submission the first week of April. Also, he mentioned, Fall courses are expected to run as planned. Should the situation change, we will notify you in the future.. This means for other courses in NEU the status is quo as of now.

California State University, East Bay: All CSUEB International Programs staff are now working from home. We appreciate your understanding as we strive to maintain services in these difficult circumstances. There is not currently anyone on-campus processing international application materials received by physical mail. We will provide further information in the coming days on how we will proceed in processing application documents. I-20 processing will continue. CSUEB students are now taking classes online through at least April 12, however, student work, events, workshops, and activities are canceled through this time frame. International students can still schedule appointments to speak with our International Student Advisors virtually.
-Special Thanks to Harshwardhan Singh, Director of Admivo International Education Consulting, Indore for this information.

Oklahoma State University: Communication from the university, In the event you are not able to get a VISA by early July to travel to the US as a student, we will consider deposit refunds on a case by case basis. Options for deferral of enrollment to a later semester are currently being explored. We will notify students as soon as a decision has been made

Creighton University: This is a video we found by the college administration:
https://www.youtube.com/watch?v=rTQlwyOYkMw

Samford University: This is a video we found by the college administration:
https://www.youtube.com/watch?v=NVBm1V3jTy0

Penn State University: As of 2nd April, an email from Louise Troxell, Administrative Support Assistant, Master's Program, they have not finished reviewing all the applications at this time. Due to COVID-19, it will take longer than usual to get all the admission letter out. She further mentioned, she can't give a definite date on when the decisions will be out.

Unversity of Illinois at Chicago (UIC): As per the Office of Graduate and Professional Admissions, in an email to a student, Fall 2020 is expected to proceed normally at this time. There are no expected impacts by the university, but you will be notified it that changes.

TAMU: Communication from the university, as of 05th April, at this point it is our plan to continue with the fall 2020 semester as normal. However, this could change at any time. If it changes, We will email all incoming students with the update.
Also, if you defer due to COVID-19, before official recommendations from TAMU, it will be treated like a normal deferral.

San Jose State University(SJSU):
Admission Deferral Policy: The offer for admission is good only for this term and may not be deferred to another semester. If you wish to attend SJSU in a future term, you must submit another application (Including the application fee) during the application period for that term to be considered for admission.

Central Michigan University:

You are not required to submit English test scores for Fall 2020 admissions. When you come to campus, you will have to take their English test and will be advised to take additional English courses in the university. Also, they will be accepting a Duolingo score of 100, but this will only be valid for Fall 2020 admissions.
They are still processing admissions, reviewing transcripts, but there will be a slight delay in the admission process
Currently waiving off the GRE requirement in light of the COVID 19 situation. But GRE will still be required for some competitive courses. You need to email the university to check if your course requires the GRE score or not for Fall 2020 admissions.
Those who have received the admit for Fall 2020 session but cannot report to the university due to the situation can defer their admissions to Spring session. You need to just email them about your plans to defer your admission to the next session.
In case you are not able to report to the university by the specified date after the orientation, your admission will be deferred until Spring.
You can Apply with ielts score which has expired last month in the light of the current situation. You could also submit any kind of unofficial scores. You will be on temporary admission until you submit your official scores.
There's no guarantee on whether the classes will be conducted online or offline. This will completely depend on the shape the situation will be taking in the days to come.
They are still accepting applications for some courses for Fall 2020 session. For some courses, the deadline is 15th May.

University of South Alabama:

Option to defer admissions for fall 2020 - yes, you will be able to defer the admission until the next term
We are totally not waiving off GRE score; for engineering, computing courses, you need to submit scores later, we will be offering you temporary admissions till then.
With a minimum Gre score of 300, you will be successful in getting graduate assistantship, below that, it may get tough

Wayne State University:

The university is hoping that things will get better in September.
No Change in Plans as of now
University has not decided anything on the deferment of the admitted students.
Other non-Covid related update from Wayne State University

Application fee is USD 50 - No Fee Waiver
Merit- based scholarships for MBA available
WES evaluation - not required to get your transcripts evaluated. You can apply with the same transcripts. Once you get an admit and join the university, in the first semester - you have to get your transcripts evaluated and the university will credit the money back to you.
Minimum backlogs - all backlogs should be cleared with 65%
Publications not required for Masters programs. For Ph.D., recommended but not required.
TOEFL - average accepted score - 79 iBT
IELTS - average accepted score - 6 Band
TA/RAship - given on the basis of vacancy, spectacular background, academic work, showcases CGPA. Based on application submitted and credentials.
Scholarships - For Masters - once you get an admit, the university emails a list of internal scholarships and a list of questions to answer to get the scholarship.
SOP should show clarity, should convince the admission authority to choose you. Read it after writing and should convince yourself.

3 integral questions to answer
- Why this program and why now - It has to showcase what kind of research you have done in the past. What kind of experience led you to this course.
- Goals (after graduating) - the first point and this point are complementary to each other. Goals should be decided before joining the course.
- Why this university - don't talk about how nice the college or the professor is because the curriculum is the same across the universities. Mention the USP of the university, like clubs which compliments your goals, delivery method of the program such as industry specialist helping you, training you, giving you real-time experience to work on projects. Figure out in what way this program is different from other universities and mention the same. Show your initiative to research about the university.

LOR:

Ensure that they don't make any contradictory statements about you or what you have mentioned in the resume/SOP.
Select a recommender who is in a position to talk about you, your strengths and weaknesses with example.
Co-worker can't be your recommender.
Recommenders should be able to talk about you academically.
2 LORs are usually submitted, Max 3, Min 1.
University of South Florida: As of 8th April 2020, in an email to the student the university has mentioned as of now they have changed nothing and asked the students to check for updates here:
https://www.usf.edu/coronavirus/students.aspx

Rochester Institute of Technology: This is from an email to the student who got an admit in Electrical Engineering, MS Program. They have mentioned in case the student is not able to attend the in campus session, they will be allowed to attend the semester online. You will be treated as a full-time student during this period.

Further they mentioned, attending the first semester online will have no negative impact on your ability to gain the work experience through RIT's cooperative education program, CPT, OPT or the stem extension program.

Syracuse University: University has asked till the 1st of June to access the situation and then will inform the students accordingly.

University of Illinois at Chicago: As per the email from the university to a student on 11th April, 2020. the university mentioned that they have made no changes as of now in the Fall 2020 semester. They are closely monitoring the situation and will let the concerned students know timely.

They also mentioned students have the option to defer once and up to one year from the semester they were admitted. Deferral due dates as the same as a regular application and can be submitted to one month prior to the deadline at the earliest. Students requesting deferral do no have to submit a new application, fee or materials. The existing application will be used to review by the admissions committee for admission.
Current Students in US | What are they saying?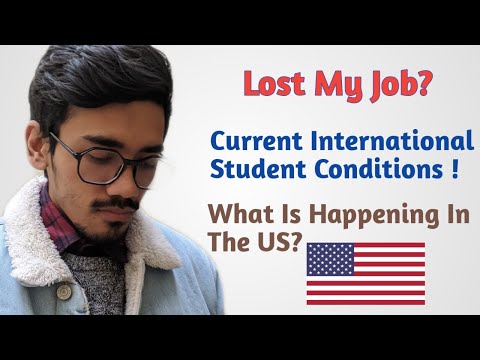 Updates on New Zealand Universities
Prime Minister Jacinda Ardern has confirmed that the New Zealand border will be closed to anyone who is not a New Zealand citizen or permanent resident from 11.59 pm NZT, Thursday.
Immigration New Zealand (INZ) is working with the Ministry of Health and other government agencies to manage the COVID-19 outbreak. These restrictions will be reviewed in 14 days.
Students who have applied and received Offer Letter for Mar, April, May, & June 2020 intakes from New Zealand Institutions may have to defer the Offer Letter for July 2020 intakes.
- Special Thanks to Ankit Jain, Founder of One Window Overseas Education Pvt. Ltd. for this information
Updates on German Universities
IUBH University of Applied Sciences:
If the student is unable to travel to Germany due to closed borders, they can start the Spring 2020 intake right away online! In order to take advantage of the online courses the student must pay the first-semester tuition fees (minus the transportation ticket and campus card). Once we can confirm that the fees have been duly paid, the student will receive their log-in information and class schedule. They can then easily attend the classes online over Zoom Classrooms, and will not have to waste any more time waiting for their visas or for borders to reopen.
- Special Thanks to Ankit Jain, Founder of One Window Overseas Education Pvt. Ltd. for this information.
Updates on UK universities
University of Bedfordshire
University of Bedfordshire have decided to cancel June 2020 intake.
All applicants for June intake, and those who could not register for March intake as well as UG students who were deferred in January will be moved to July intake.
Academic entry requirements and tuition fee structure will remain unchanged for July intake.
All new applications for July intake will now be considered for September 2020 intake.
- Special Thanks to Ankit Jain, Founder of One Window Overseas Education Pvt. Ltd. for this information.
Updates on Canadian Universities
Here is the advisory by High Commission of India in Ottawa for Indian Students in Canada
https://www.hciottawa.gov.in/pdf/whatsnew/student_advisory_2020_mar19_1.pdf
St Clair University:
St. Clair College has decided to delay the May semester by two weeks with the intake beginning May 18th, 2020.
St. Clair College is still planning on new semester one for international students this May, along with returning semester two and semester four international students.
- Special Thanks to Ankit Jain, Founder of One Window Overseas Education Pvt. Ltd. for this information.
Western University
As of 25th March 2020, Janice M Wiersma, Graduate Program Analyst, UWO, mentioned to one of the prospective students in relay to query regarding the conduct of fall semester that "We hope to have answers by the end of April, however, everyone is working virtually right now so there could be some delays"
University Canada West: UCW has decided to delay the 2020 term start dates by two weeks. If you are an admitted student, you should be hearing from them any time soon if you have not already done so. Here is he term wise updates:

Spring Term 2020: The first day of classes for the Spring Term will be April 20, 2020. SOAR (Student Orientation and Academic Readiness) will take place online and not on campus between April 13-17.Newly admitted students have the option to defer their start to Fall 2020. You should contact the Student Services Office at UCW as soon as possible if you intend to defer your admission to Fall 2020 or beyond.

Summer Term 2020: The Summer 2020 term at University Canada West will commence on July 20, 2020 and conclude on October 16.

Fall Term 2020: The Fall 2020 term will commence on October 19 and will conclude on December 20, 2020.
Vancouver Island University: As per the FAQ on official website,
Q: Will my classes in September start as scheduled?
A: At this time, our hope is that classes scheduled to start in August or September 2020 will proceed as planned.

Q: What if I cannot enter Canada in time for the Fall term?
A: You will have the opportunity to defer your start to another term OR to request a refund. See our International refunds web page for the latest information on the special COVID- 19 refund policy which will be posted in the coming days.

Q: Should I cancel my travel plans for the Fall?
A: While this is an individual decision, and dependent on Government travel advisories, VIU is not advising students to cancel their travel plans at this time.

Q: I have not yet booked my travel for Fall term at VIU. Should I?
A: You may wish to wait a while given the current situation. If you proceed in booking your tickets, we strongly recommend that you purchase cancellation insurance that will cover all scenarios.

Q: Should I still plan to apply for my study permit for Fall 2020?
A: At this time, we recommend that you proceed with your study permit application as usual.

Brock University: Update from the university:
As of March 18, the Canadian border is closed to everyone except for Canadian Citizens and Permanent Residents of Canada. Students who are scheduled to begin their undergraduate or ESL studies in May, can either begin their studies online from their home country, or defer to a later intake. If you would like to defer your start to a later intake, please email futurestudent@brocku.ca to liaise with a representative from Admissions.

Algoma University:
If your program is being offered by Algoma University in June this year, you will have the option to study online from your home country or defer to the September 2020 term.If your program is not selected to be offered in June 2020, your offer of admission will be deferred to the September 2020 term.
Start Dates

20SF = June 1 - July 10 (exams July 13-14) - 6-week accelerated courses

20SP = June 1 - August 25 (exams Aug 26-31) - 12-week standard course

20SS = July 15 - August 25 (exams Aug 26-31) - 6-week accelerated courses

Study Permits

You do not need a Study Permit to start your online program at Algoma University. However, Algoma University strongly recommends that you apply for a Study Permit as soon as possible so that the permit is in place when it is time to depart for Algoma University.

Concordia University: Nothing has changed yet; classes are still expected to begin as scheduled in September. We are closely monitoring the situation and if anything changes, you will be notified by email.
Impact of Covid-19 on Abroad Education Loans
We conducted a webinar on this topic on 3rd April, 6:00 PM. Here is the recording of the same: